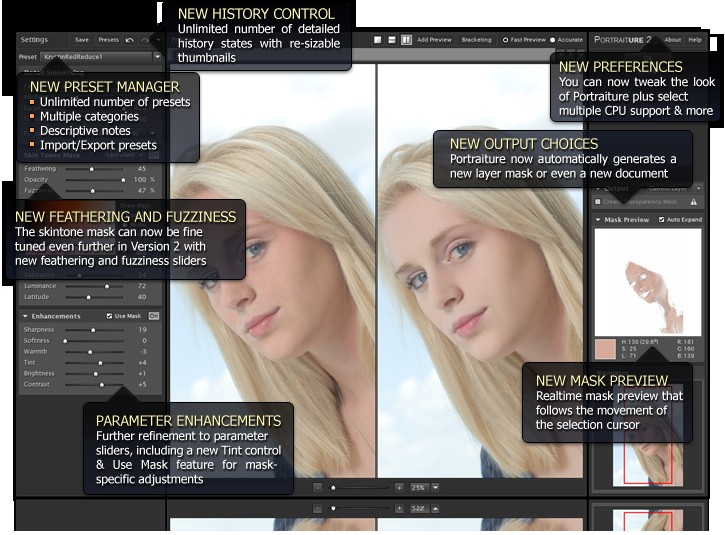 Jau par šo programmu rakstījām un arī rakstījām, ka kavēsies, tādēļ neko daudz vairs nerakstīsim, ja nu vienīgais oficiālo preses paziņojumu pārkopēsim. Tieši tā arī ir kā rakstījām, ka jaunā versija ir 2006, kas dažiem jau bija pieejama 5. decembrī. Tagad visiem tā ir pieejama izmēģināšanai un to lejupielādēt, kā arī lietot var vairākas dienas bez maksas imagenomic.com.


Alexandria, Virginia -- December 10, 2008 – Imagenomic LLC announced today the release of Portraiture 2, a significant upgrade to its award-winning Portraiture Plug-in for Adobe® Photoshop®. This new product edition features an array of advanced controls to further enhance the accuracy and refinement of the skin retouching process, and adds new capabilities for accelerating workflow performance, as well as new techniques for creating striking and fashionable finishing looks. From natural-looking skin smoothening with detailed pore level retention, to high-contrast and glamour effects for professional advertising campaigns, Portraiture 2 is both a powerful productivity and a special effects tool for Photoshop users, and is compatible with the latest versions of Adobe Photoshop Elements® and Creative Suite®, including full support for CS4 32 and 64-bit versions.





Portraiture 2 is designed to provide seamless and time-saving steps for photography workflows, creative studios, and image production environments, with features and functions including:
Automatic Skin Tones Mask generation and "One-click" skin retouching through a new Preset Manager, which includes image thumbnail previews, bracketing controls, custom preset creation and file sharing, user notations, and visual history states;
Advanced Skin Masking controls for selecting, feathering and refining the retouching area, as well as edges and tonal ranges of the selected mask, with real-time previews;
New Enhancement sliders and settings for sharpness, softness, warmth, tint, brightness and contrast control, with the ability to apply these selectively to the mask area only or to the entire image, e.g. for adjusting lighting effects in software;
Non-destructive editing and extended output options, including dynamic retouching settings optimized for the intended print size, automatic generation of a new Photoshop Layer Mask, or creation of a PSD document;
New User Interface selection options, batch processing capabilities, and multi-threaded/multi-processor support for maximum retouching speed and performance.
Portraiture 2 supports both Mac OSX and Windows XP/Vista operating systems, and is fully compatible with Photoshop Elements 4/5/6/7, and Photoshop CS2/CS3/CS4 (32 and 64-bit versions), as well as Creative Suite Extended.
"We're thrilled to see Imagenomic's award-winning Photoshop plug-ins making a prompt move to the 64-bit Windows platform," said Bryan O'Neill Hughes, Product Manager for Adobe Photoshop. "Imagenomic has proven to be a great partner and one that shares a passion for providing flexibility, performance, and integration with our emerging architecture."
"Portraiture 2 is the state-of-the-art software for digital skin retouching, and represents the next generation for workflow performance and finishing effects for the photographic, creative, and advertising communities," said David McDonell, co-founder and CEO of Imagenomic. "We are extremely excited with our product portfolio and the underlying technology it represents for both still and motion imagery. The use of these products with the evolving range of capture, editing and output devices and platforms has myriad and beneficial impacts for working professionals in numerous creative industries, including wedding and portrait photography, creative design, fashion and advertising, cosmeceuticals, high-definition video and film production."
Imagenomic recently completed a comprehensive public beta test period for Portraiture 2 with over 1000 registered participants, and numerous public demonstrations at industry events including Photokina08 (Cologne, Germany) and PhotoPlus Expo (NYC). In addition to today's release of Portraiture 2 for Adobe Photoshop, a version for Apple® Aperture® is completing its' public beta test phase, and a new version for Adobe Lightroom® will be introduced for public beta testing shortly. Both new versions will be commercially released in the coming weeks.
The response to Imagenomic's latest plug-in product has been overwhelmingly positive, with enthusiastic feedback from across the photographic and retouching communities, including some of the most respected photographers and educators in the industry.
"With the advent of the Portraiture Plug-in, Imagenomic has changed the game for retouching in Photoshop," says Scott Stulberg, a professional photographer and art instructor at UCLA." There is no easier or better software available to remove imperfections and smooth out skin. Showing Portraiture 2 in my Photoshop Portrait Retouching classes, the response has been phenomenal. Whether you want precise control or just want to put it on autopilot, your end result will look like you had the best make up artist with you at every shoot."
"Being successful in wedding photography today demands that you streamline your workflow. Our retouching team loves the new Portraiture 2 plug-in," explains Andy Marcus, owner of Fred Marcus Studio and Canon Explorer of Light. "We truly believe it is a great product and the best we have seen for smoothing skin textures. We use it daily and my clients love the results."
"Natural-looking retouching is very important to our Senior work," explains Tim Schooler, award-winning Senior and Fashion photographer. The crew at Imagenomic has done it again with the latest version of their fantastic Portraiture plug-in. Faster, better and more features. It saves us so much time, we couldn't imagine being without it."
"Most Plug-ins just make claims – Portraiture really works!" exclaims Katrin Eismann, Photoshop Diva and Chair, Digital Photography Department at the School of Visual Arts, NYC.
McDonell emphasizes that the speed, accuracy, and cost-savings associated with Imagenomic's complete line of imaging software, including Portraiture 2, will drastically reduce post-production processes and, subsequently, overhead costs.
"Business owners and creative professionals alike need to re-assess their circumstances under these difficult economic conditions," says McDonell. "Imagenomic's products provide proven, real-world solutions to improve in-house productivity, maximize existing investment in equipment and software, and enhance their versatility and creative output at a very affordable price. The return on investment is tangible and immediate," McDonell added.
Portraiture 2 for Photoshop is being provided as a Free Upgrade to existing users of the original Portraiture Plug-in. New pricing of $199.95 for Portraiture 2 will go into effect on January 2, 2009. Portraiture 2 can be purchased directly from Imagenomic's website, and is also available for download and use on a 15-day free trial basis.